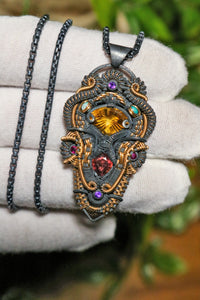 Catchin Z's
This pendant features a 3.62ct fancy cut citrine along with a 1.14ct pink tourmaline, 2 amethysts, 2 Tibetan turquoise, and 2 rubies wrapped in oxidized sterling silver and 14k gold fill.
A 24" oxidized sterling silver rounded box chain is included with this piece.
Pendant Size - 2 1/8" x 1 1/8"
Payment plans are available. Message me at Twistedupwraps@gmail.com or on Facebook/Instagram to get set up!